Peace Waves Circle around the Globe, Urging Nuclear Powers and Their Allies to Sign the Ban Treaty for a Nuclear-Free World
Following the Peace Wave launching actions in Hiroshima, Nagasaki and elsewhere in Japan on September 20, many actions have been carried out around the world to urge world's governments to sign the Treaty on the Prohibition of Nuclear Weapons, which was made open for signature at the United Nations on that day. So far 53 countries have signed the treaty and 3 of them have already ratified it. The treaty will go into force 90 days after the ratification by the 50th country.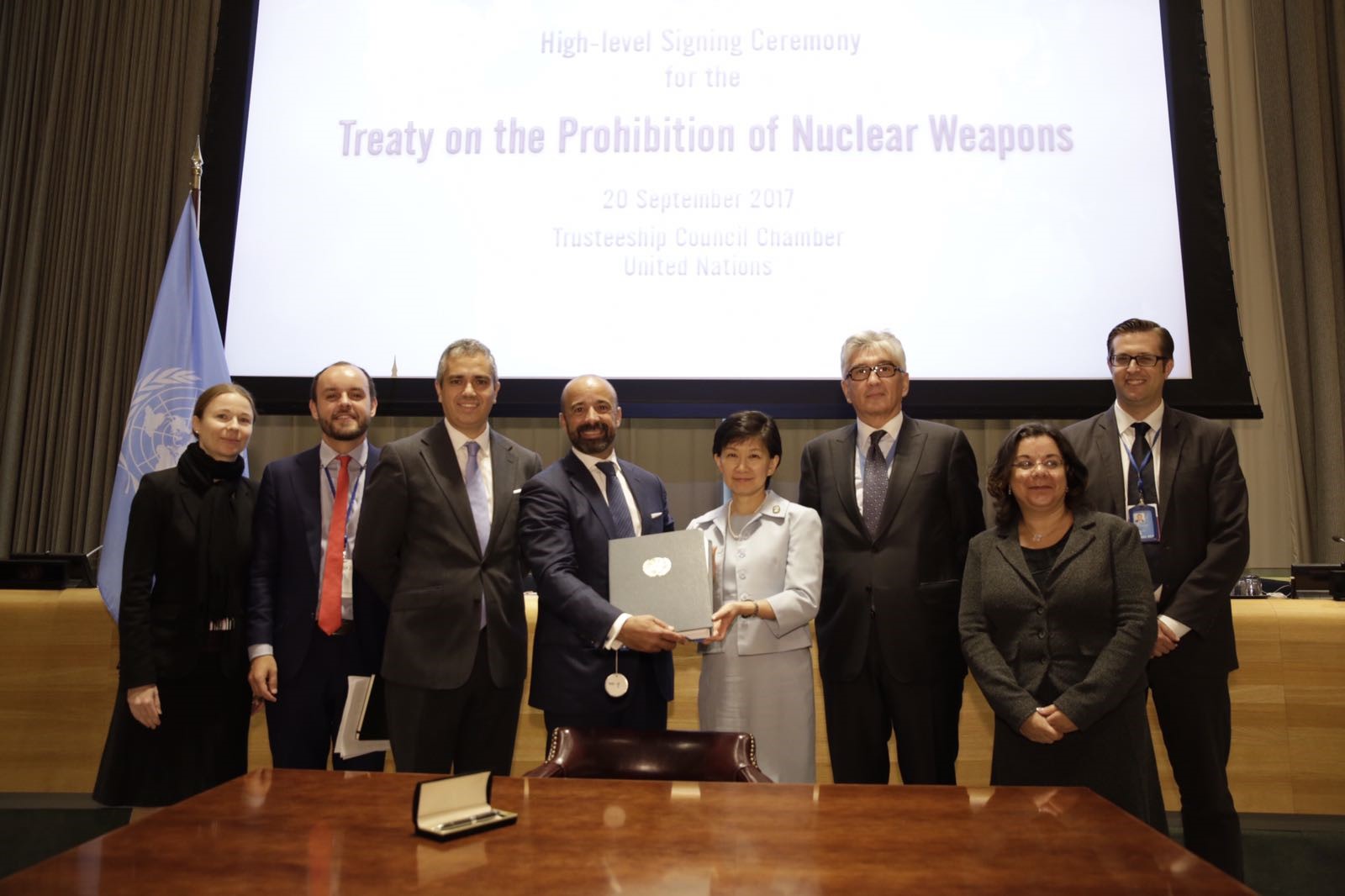 Signing Ceremony for the Treaty on September 20, 2017, at the United Nations
Many creative forms of actions are taking place as part of the Peace Wave, including forums, signature collections, hanging peace cranes with messages at doorsteps, A-bomb photo exhibitions, handing in the petitions to Prime Minister's office, "Citizens Signing Ceremonies" etc.
In Japan, as of September 26, actions are carried out/planned at 468 places in 196 cities/towns.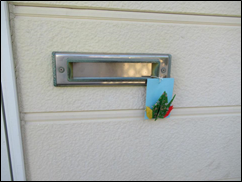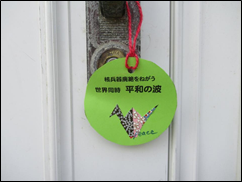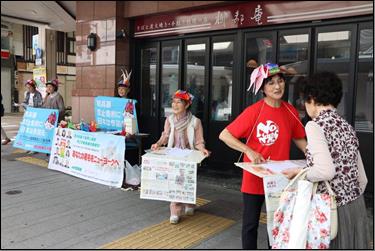 In the meantime, we send our very best wishes to you for the success of your actions, especially on September 26, marking the International Day for the Total Elimination of Nuclear Weapons -- the final day of the Peace Wave.
Please send in the outcome reports of your Peace Wave actions with photos/movies and links to share for the next issue of the Peace Wave News: antiatom@topaz.plala.or.jp.
Best,
Peace Wave Task Force
Peace Wave Actions Sweep Around the World:
New Zealand
Tauranga Worship Group of the Religious Society of Friends, Aotearoa New Zealand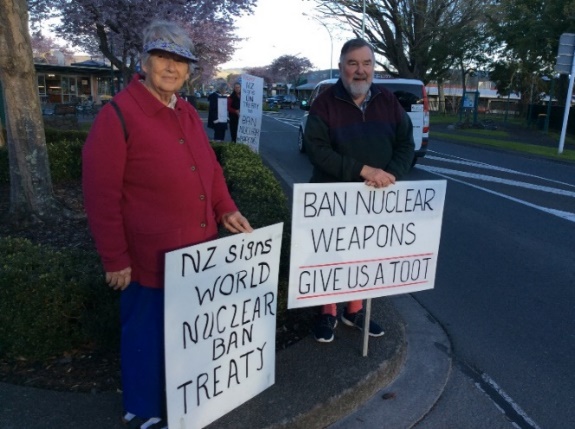 Thank you for your interest in our peace vigil to mark the signing of the UN Treaty to Ban Nuclear Weapons. Five Quakers stood on the street with placards and many passing motorists tooted their encouragement. We are proud that New Zealand took an active role in the negotiations for this treaty and is one of the first countries to sign. We hope that soon fifty countries will sign and the agreement will become international law.
We plan to hold a candlelit vigil every evening from 20th - 26th September, at 5pm - 6pm at the Greerton Public Library, Tauranga, New Zealand.  We will display posters with slogans such as:" Support Ban on Nuclear Weapons".  Every good wish for your campaign. Contact: Tauranga Worship Group, davetricia@hnpl.net/ Mary Rose, mgrose39@gmail.com
Fiji
Marshall Islands Students Association (MISA), Fiji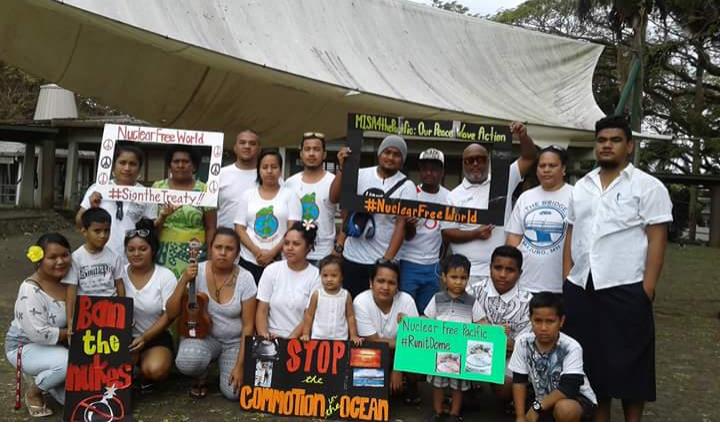 Allow me to introduce our Marshall Islands Student Association President Kimber and Winder who worked diligently in getting our signature and nuclear ban treaty awareness booth a success.
Our MISA4thePacific campaign is a student movement consisting of Marshallese attending University of the South Pacific (USP) and Fiji Medical University (FNU) here in Suva, Fiji. Together, with the rest of our student association members, we hope to bring awareness to our peers and colleagues in our schools to start thinking and speaking about the Nuclear Legacy in the Pacific and bringing attention to the Cactus Dome, a nuclear waste storage.
Our MISA4thePacific campaign aims to push government leaders to make plausible decisions to address this issue as nuclear contamination directly affects everyone in the Pacific Region through our shared Ocean (an SDG 14 goal).
We look forward to collaborate with you and your shared organization in moving forward together with this issue. As many of us are students who work tirelessly with our studies, we will do what we can to offer our support. I have attached a group photo from our awareness event.
We will also be giving out a brief explanation about the Peace Wave, Hibakusha Appeal Signature Campaign and the Nuclear Ban Treaty.
Contact: Kimber Rilometo, MISA, misa.fiji@gmail.com/ Danity Laukon, dlaukon@pss.edu.mh
India
Jammu Narayana Rao, Global Network Against Weapons and Nuclear Power in Space - Nagpur, India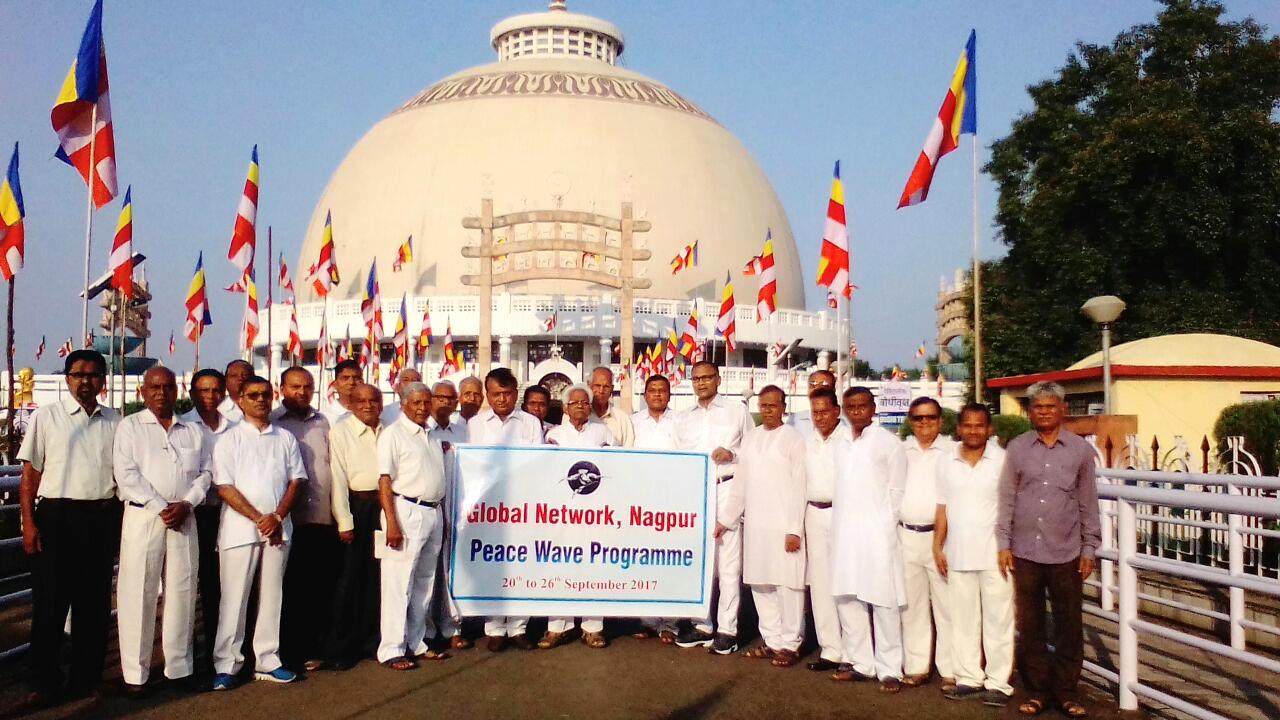 -- In Nagpur, Peace Wave Programmes, including meeting and signature drive are being held from 20 to 26 September. This photo was taken in front of the Deekshabhumi Buddhist Temple. Contact: seshraomate7860@gmail.com/  J.Narayana Rao: jnrao193636@gmail.com
Germany
Wolfgang Schlupp-Hauck, Chairman, Friedens Werkstatt Mutlangen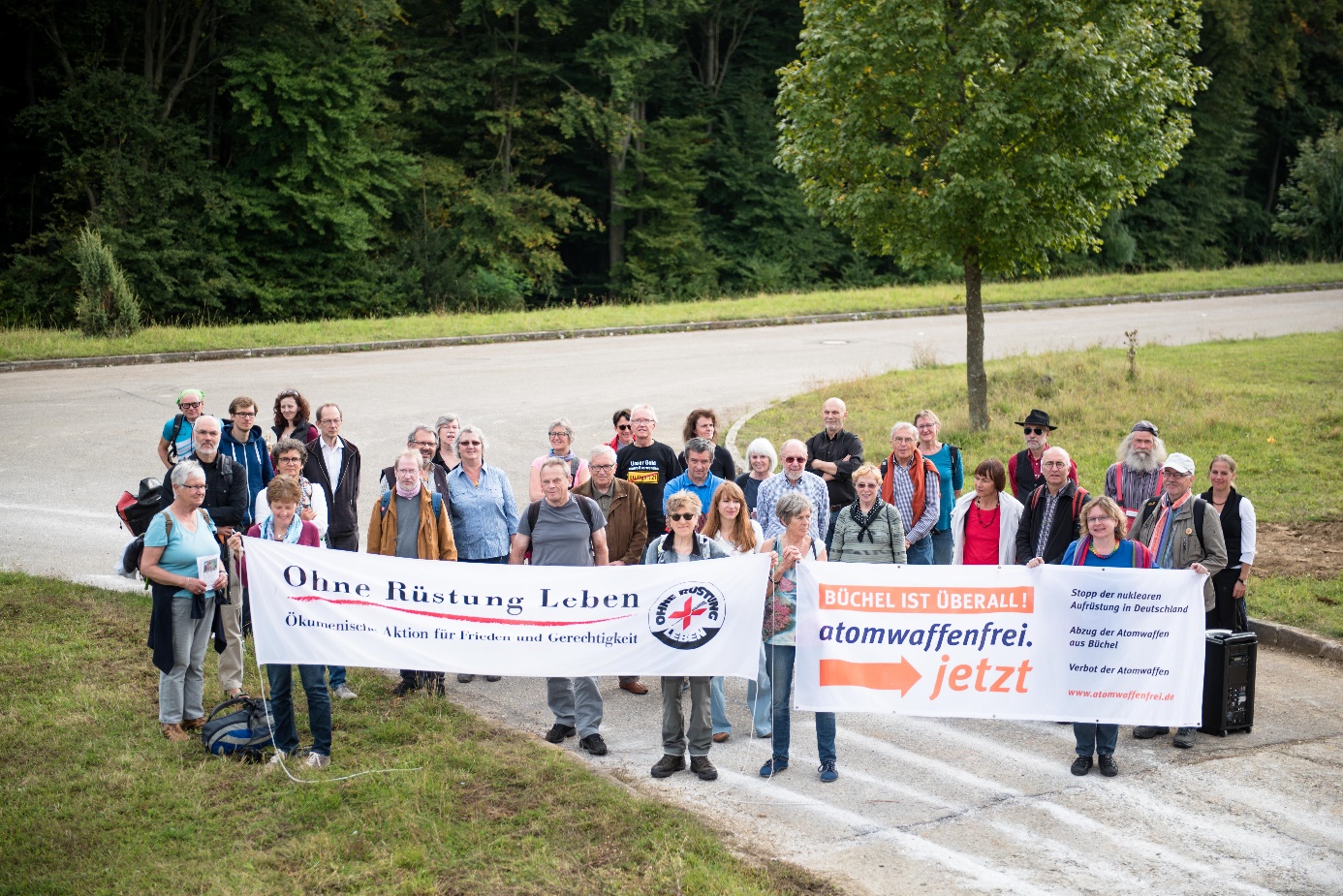 From Germany I can report that we will issue a press release on September 20th.  On September 23rd we will have a meeting in Mutlangen with about 60 people to commemorate 40 years of "Ohne Rustung Leben" (Living withour Arms). We will demand on this occassion, that Germany will join the ban treaty.
After the elections for the Bundestag on September 24th we will hand over to the parties forming the new coalition for the government more than 20.000 Signatures demanding the same. This is organized by the Campaign "Buchel ist uberall - atomwaffenfrei.jetzt (Buchel is everywhere - nuclear weapons free)" (German branch of Abolition 2000).
Contact: Wolfgang Schlupp-Hauck, Email: wolfgang.schlupp-hauck@t-online
(Photo by Jens Volle: Our action at the former Pershin II Depolymentsite in Mutlangen)
United Kingdom
Campaign for Nuclear Disarmament (CND)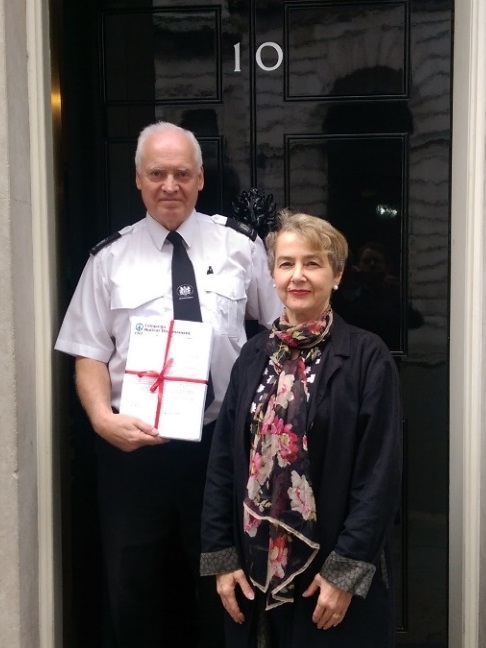 Please find enclosed a photo from Wednesday, when CND delivered thousands of letters to 10 Downing Street, calling on Prime Minister Theresa May to sign the treaty.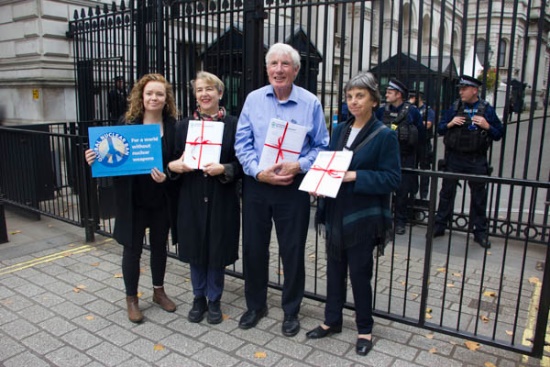 CND are organising or assisting or organizing the following events across the UK:

- In the run up to the 20th CND will have a social media campaign profiling a celebrity every day in favour of the UN treaty.

- On Wednesday 20th September at 3.30pm CND and its partners will be handing in a letter to Downing Street together with the letters our members and supporters have signed to send to the PM about this issue.

- On the 23rd September, the Guardian will carry a full-page advert calling for the cancellation of Trident replacement and support for the global ban.

- We are also working to get a letter in the Guardian from prominent figures including MPs, faith leaders and trade union leaders, in support of the ban treaty.

- CND groups and members will hold a local constituency lobby and make appointments to see their MPs on either Friday 22nd or Saturday 23rd September to discuss supporting the UN treaty.

- On Saturday 23rd, a number of CND groups will hold a local stall to highlight the UN treaty and Britain's decision not to support it.
Contact: Stephanie Garey, CND  Email: Stephanie.Garey@cnduk.org
United States of America
Joseph Gerson, American Friends Service Committee, Cambridge, Massachusetts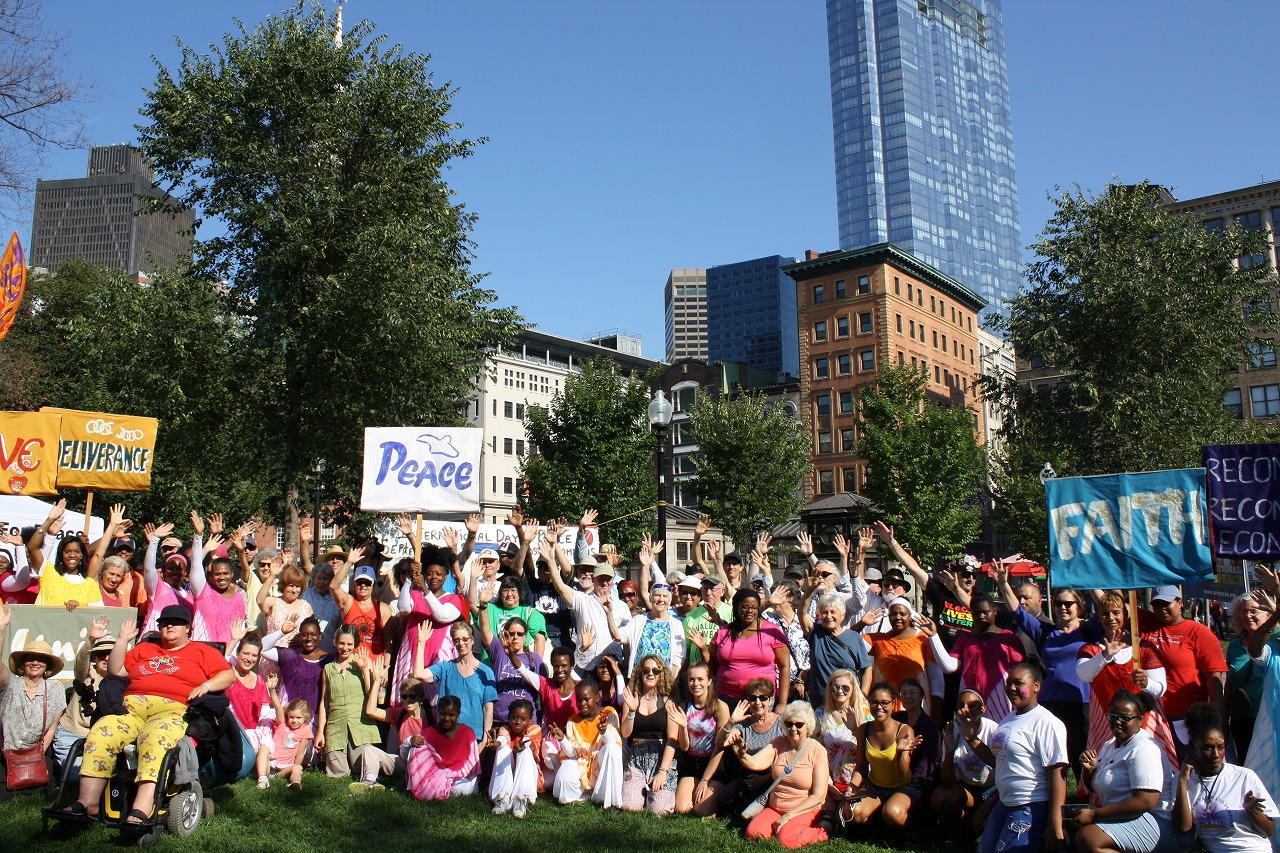 We used the International Day of Peace here in Boston as the focal event of our Peace Wave.  It brought together local peace and justice activists in Boston Common.
We talked about the origin of the Wave in Hiroshima at the World Conference against A- & H-Bombs stressed the importance of the Ban Treaty, the inspiration provided by the 122 states ? the majority of the world's governments - who negotiated the Treaty, and the critical role that movements the umbrella states and Jeremy Corby's Britain can now play.
We talked about the urgent need to move from nuclear confrontation to direct negotiations with North Korea, the double standard the lies behind the crisis, and the $1.2 trillion the U.S. is on track to spend to upgrade its nuclear arsenal, while we don't have enough money for health care, housing, college educations, hurricane relief and to combat global warming.
People gathered in the hope that our unity and commitments will encourage others. We hope that our photo will boost your efforts to build on the Ban Treaty, to prevent war, to resist injustice and to build the world that we all need.  Take action!
And, if you have a photo from your Peace Wave action, please send it to me at JGerson@afsc.org
Contact: Joseph Gerson, JGerson@afsc.org