February 27 - March 1, 2019, Shizuoka and Yaizu
Japan Council against A & H Bombs (Gensuikyo)
Theme February 27 February 28 March 1 Overseas Delegates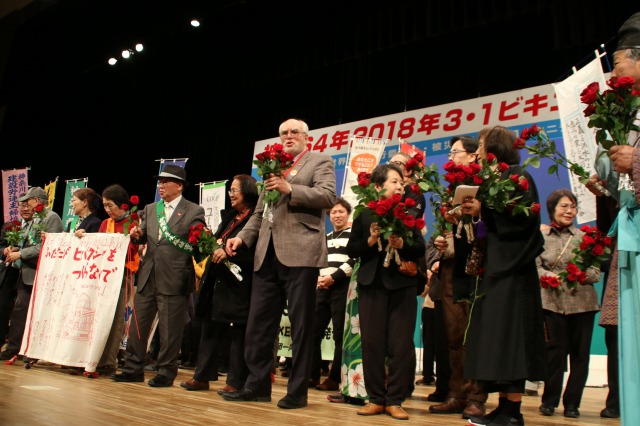 Theme
Toward 2020 & 75th Year of the A-Bombing, Let Us Build on Cooperation and Actions for a Nuclear Weapon-Free World:
Achieve a Japan to Stand for Nuclear Weapons Abolition and Article 9 of the Constitution
February 27 (Wednesday)
14:30-17:30 International Forum (Shizuoka Shimin Bunka Kaikan, 2-90 Sumpu-cho, Aoi-ku, Shizuoka.  Tel: 054-251-3751)
Toward 2020 & 75th Year of the A-Bombing, Let Us Build on Cooperation and Actions for a Nuclear Weapon-Free World: Achieve a Japan to Stand for Nuclear Weapons Abolition and Article 9 of the Constitution
Panelists:
Joseph Gerson, Campaign for Peace, Disarmament and Common Security, U.S.A.
Abacca Anjain Maddison, Former Senator, Republic of the Marshall Islands
Lee Junkyu, Republic of Korea
Yayoi Tsuchida, Japan Council against A and H Bombs (Gensuikyo)
18:10 Reception to welcome overseas delegates @Star Palace Room, 2F, Hotel Sun Palace
February 28 (Thursday)
13:00-15:00  Plenary Meeting, 2019 Bikini Day Gensuikyo National Conference(Medium Hall - Earth, Granship Shizuoka)
Program: Keynote address; Messages; Speeches by overseas delegates(7-minute speech each) Grass-roots activists and others
15:30-18:30  Workshops, 2019 Bikini Day Gensuikyo National Conference(Different meeting rooms in Granship Shizuoka)
1 - 1 and 1-2. Achieving a Japan to join the Treaty for the Prohibition of Nuclear Weapons: Let us spread the International Hibakusha Appeal Signature Campaign
2. Denuclearization of the Korean Peninsula and the role of Japan
3. Together with the Hibakusha: Making known to people Hibakusha's experiences and the damage from the A-bombing
4. Solidarity with Okinawa; Stop the attempt to revise Article 9 of Japan's Constitution and achieve a nuclear-free, peaceful Japan
5. Zero nuclear power plants; Support for disaster-affected communities and shift to renewable energy sources
6. Stop the ongoing massive armament and turn the resources to support people's lives and create peace
7. The Bikini incident and the anti-A and H-Bomb movement (For beginners)
Related event:
19:00  Signature drive for the International Hibakusha Appeal by young people "Ring! Link! Zero 2019 in Shizuoka" (North Exit of JR Shizuoka Station)
March 1 (Friday)
09:30-11:30  Procession to the grave of Kuboyama Aikichi at Kotokuin Temple;Memorial ceremony (Kotokuin Temple); Flower dedication to the grave
Move to Yaizu City Cultural Center by taxi; Lunch
13:00-15:30  The 65th March 1 Bikini Day Rally 2019 (Yaizu City Cultural Center)
Sponsored by the Organizing Committee of the World Conference and Shizuoka Organizing Committee for the Bikini Day
Program:
Organizer's Report; Testimony by victims of Bikini Hydrogen Bomb test;
Appeal by the plaintiffs seeking a State compensation for the sailors affected
by the Bikini tests; Speeches by grass-roots campaigners; Cultural program;
Adoption of Yaizu Appeal
Overseas Delegates
U.S.A.
Mr. Joseph Gerson, Campaign for Peace, Disarmament and Common Security
Republic of the Marshall Islands
Ms. Abacca Anjain Maddison, Iju in Ean Club/ Former Senator, Rongelap Atoll
Republic of Korea
Mr. Lee Jun Kyu, Researcher
Republic of Lithuania
Dr. Gediminas Rimdeika, M.D., Lithuanian Green Party
Mrs. Angele Rimdeikiene
Mr. Vladislov Juskiai
Mrs. Zinaida Juskiai